Performance and Efficiency
Outperform the competition with an efficient new Toyota hybrid or electric model today, browse all the latest performance options to get the power and range your daily commute needs. Like the Toyota Prius that comes equipped with a 1.8L 4-Cylinder Hybrid engine that produces 54 city and 50 highway mpg. Or for further range, the Toyota Prius Prime offers 54 mpg and up to 133 mpge thanks to its 1.8L 4-Cyl. ECVT Hybrid and Permanent magnet AC synchronous motor.
Toyota Corolla Hybrid on the other hand comes equipped with a reliable 1.8L Hybrid (ECVT) engine that offers 53 city and 52 highway mpg. Unlock additional range with an available Lithium-ion battery that is positioned in a sweet spot for optimal weight distribution and handling. As for the new Toyota Camry Hybrid, unleash up to 51 city and 53 highway mpg thanks to its 208 Hybrid System Net Power 2.5L 4-Cylinder ECVT Hybrid engine.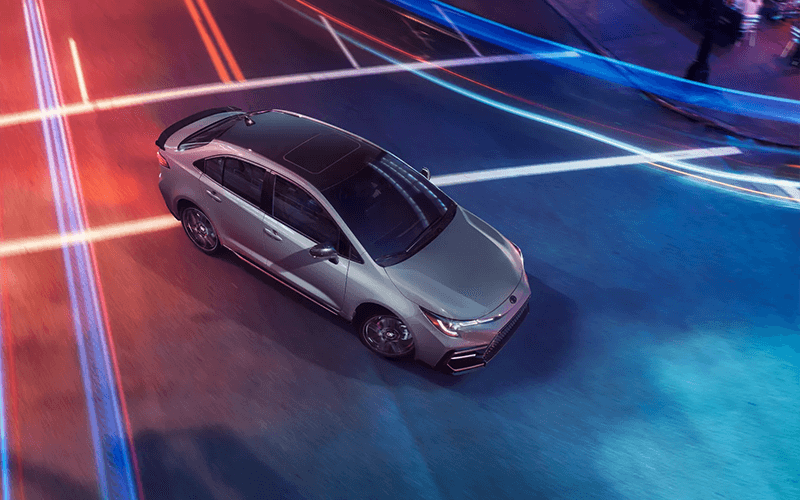 For even more versatile power and dynamic capability, the new Toyota RAV4 Hybrid features an Electronic-AWD 2.5L Hybrid engine that produces an impressive 41 city and 38 highway mpg. And the Toyota RAV4 Prime boasts 40 city and 36 highway mpg or 94 mpge thanks to its 2.5L 4-Cyl. Plug-in Hybrid engine and lithium-ion battery.
Both Toyota RAV4 models also offer, available All-Wheel Drive, available Multi-Terrain Select with MUD & SAND, ROCK & DIRT, SNOW, and NORMAL modes, and available All-Wheel Drive Integrated Management with Multi-Information Display monitor.
For a more potent performance, the new Toyota Venza can produce 40 city and 37 highway mpg thanks to its sophisticated 2.5L 4-Cylinder ECVT Hybrid engine. An All-Wheel Drive model with a 2.5L 4-Cyl. ECVT Hybrid engine is also available and can produce up to 243 combined net horsepower while also offering 36 city and 35 highway mpg. For a more luxurious feel, the new Toyota Avalon Hybrid boasts a nimble and capable 2.5-Liter 4-Cylinder ECVT Hybrid engine that offers 43 city and 44 highway mpg.
And for a minivan with exciting range and power, the new Toyota Sienna's Hybrid—2.5-Liter with Double Overhead Cam (DOHC), 16-Valve, D-4S Injection, and Dual VVT-i engine can offer up to 36 mpg! As for the innovative and exclusive Toyota Mirai, drive off with up to 76 city and 71 highway mpge using only clean energy!
Whichever plug-in hybrid or all-electric model you choose, you can drive with confidence knowing that there are more than 26,000 charging stations across the United States available to you. Plus, the Toyota hybrid battery warranty will cover 10 years from the date of first use or 150,000 miles, whichever comes first (previously 8 years or 100,000 miles).